Wireless connectivity is faster than ever, but your home still needs a solid network of wiring for higher bandwidth, better Internet security and a host of other benefits.
In a world that increasingly uses wireless communication, conversations about cabling / prewiring can seem a bit outdated and, frankly, unnecessary. In reality, this could not be further from the truth. Wiring is and will remain, an important component of any modern home. Why?
A Home Needs a Robust "Nervous System"
High-speed, low-voltage cabling delivers data, audio/video signals, communications, security, and control commands to a wide variety of devices throughout the home with unsurpassed reliability, accuracy, and speed. The wiring that connects all of these technology systems serves as the virtual nervous system for the home. Think of a home's wiring infrastructure as the 'foundation' or 'digital backbone' that supports all of the various technologies in your home. It is true that a high-performance wireless network (Wi-Fi) is fairly capable at shuttling all sorts of signals throughout a home, though there are a host of all too common limitations and challenges with relying too heavily with this approach: slow downloading and uploading of video files, finicky access to the Internet, and buffering during video playback, to name a few.
Cabling "Comes of Age"
"Wireless networking was developed as a communications platform for devices we walk around with, like laptops, smartphones, and tablets," says Eric Bodley, president of Future Ready Solutions. It's a flexible and convenient mode of networking for certain applications, though as the number of wireless devices in a home continues to grow, the bandwidth of a wireless network becomes increasingly congested. When this happens, signal delivery slows or even comes to a complete halt. Bodley relates the inherent problems of wireless networking to extinguishing a house fire with a garden hose. The hose simply can't handle the volume of water needed for the task.
Building a Better Highway
A home that has been properly prewired with ample wire and fiberoptic cabling provides a fast, reliable multi-lane highway on which signals can travel, free from connectivity issues, traffic bottlenecks, and slow delivery. Every signal gets to where it needs to go without any disruption or hiccups along the way. High-resolution 4K videos download to TVs and computers quickly and without picture degradation, multiple people can stream content from the Internet at the same time without issues, and high-resolution music travels without latency to speakers located throughout the home.
Proper wiring also ensures a more secure network, less susceptible to cyber hacking, viruses, and other ailments. It is a benefit that resonates strongly with homeowners, as nearly two-thirds indicate concern about the connected devices in their homes "listening" to their conversations, according to a survey by iQor. Cabling mitigates this risk and ensures that services delivered to the home on cabling stay on cabling, dramatically reducing signal interference or security threats that can plague wireless networks.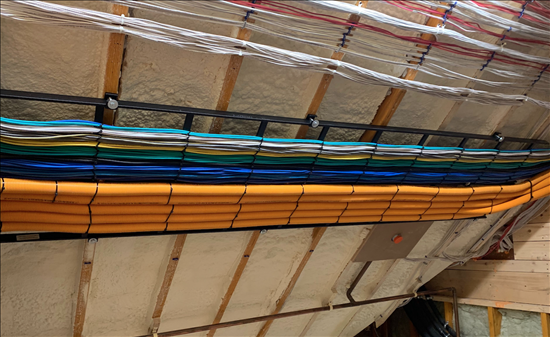 One of the biggest benefits of installing wiring throughout the home, however, is the burden it takes off a Wi-Fi network. As more devices connect instead to a wired network, a home's Wi-Fi connection is more available to the devices that depend on a wireless connection. Devices like smart thermostats and light switches that need occasional access to a network can continue to utilize Wi-Fi to its full capacity, while other products like surveillance cameras and TV/movie video streaming that can max out a wireless network are better served by a wired connection.
Installing the Right Wiring Solutions Make a Home "Future Ready"
While wiring is crucial to managing the technologies of today, it becomes even more important when we look to the future. The strain on wireless networks will only get worse. A new forecast from International Data Corporation (IDC) estimates that there will be 41.6 billion connected IoT devices, or "things," generating 79.4 zettabytes (ZB) of data in 2025! This increase will put about 15 connected devices into the hands of every consumer, and we can assume that many of those devices will be used inside the home. It is not just the volume of products creating a demand for a structured wiring platform; it's the growing sophistication of technology that makes a well-engineered wiring infrastructure more vital than ever.
Gigabit network speeds are already here. "It's safe to assume that it won't be long before 10 Gigabit speeds will become the standard of Internet service providers," Bodley says. These faster Internet speeds are supporting technologies like 8K ultra-high-resolution video, high-resolution audio, virtual reality, and artificial intelligence. A well-planned and installed wiring solution by a professional home technology integrator is the best way for homes to keep pace with these advances.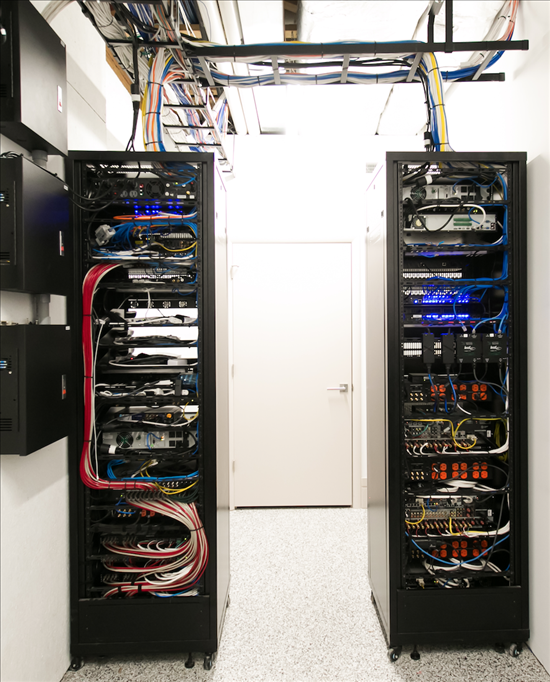 It is not just about keeping pace; it's about ensuring that the devices inside the home function to their full potential. Wiring ensures that an 8K video signal not only reaches a display, but that the video retains its full high-quality resolution and depth of color and contrast; that high-resolution music doesn't just play through the speakers, but the music plays with all the clarity and crispness of the original CD. Why invest in a high-performance 8K TV or high-resolution music system if the video and audio come through compressed and not as the artist intended? Future-ready wiring delivers on the promises of home technologies available today and for decades to come.
It's the ultimate irony: something as "old school" as home wiring has come full circle as the infrastructure of choice of educated builders and home systems integrators.
More Fiber in Your Networking Diet
As already discussed, wiring provides a better networking backbone for bandwidth-intensive applications and technologies. Though what kind of wiring is best? According to Bodley, fiber optic cabling is the only type of wire that can adequately provide the appropriate bandwidth for today's and tomorrow's data-intensive demands. The best course of action is outfitting homes with a hybrid of networking solutions and proper mix of conventional copper wiring and fiberoptic cabling. A qualified home technology integrator, such as an HTA Certified home technology professional, will be able to determine the best course of action based on the bandwidth demands of technologies planned for the home, the usage habits of the household, and in preparation for the future.
Learn more about the importance of robust network infrastructure by clicking here.
Click here to view HTA Certified home technology pros
Click here to create a technology installation budget
This article was created with help from Eric Bodley, President & CEO of Future Ready Solutions

Eric Bodley has more than forty years of experience in the consumer electronics industry and has consulted for dozens of retail and custom installation companies on sales, management, and operational issues. Eric's projects include launching the Perfect Path brand for PPC Broadband, Inc. (a Belden Brand); developing numerous products and programs while Senior Sales Director at Monster Cable Products, Inc. and co-founding Florida's Home Entertainment Design, Inc. (an HTA Certified CEPro Top 100 Integrator). Learn more at futurereadysolutions.com
Banner photo credit: H & Builders at h-hbuildersinc.com